The Official KITFT Magazine will be published for distribution at the annual tournament which will take place on Wednesday, 11 October, Thursday, 12 October and Friday, 13 October 2023.
Distribution
All copies of the Official KITFT Magazine are distributed free of charge and will be distributed at the tournament and each competitor's entry bag will also include a copy. Copies will also be available nationally at fishing related outlets such as tackle shops, outdoor living shops, selected safari lodges and up-market retail outlets.
Regional distribution will include select angling clubs within South Africa, Botswana, Zambia, Namibia and Mozambique.
Advertise
The 2023 publication will be A4 size and printed in full colour on gloss paper. You are invited to market your products and services by advertising in the prestigious annual KITFT Magazine.
Deadline
Please note material deadline is strictly Friday 1st September 2023.
Payment
Booking will be confirmed with full payment. Payment to be received in full no later than Friday 1st September 2023.
Advertising Material
All material to be supplied in PDF format, 300 DPI, No Spot Colours.
Please note: Should you require, we are able to design adverts on your behalf, please call us to enquire about rates.
Advertising Contact
Please contact David McAllister at Digital Foundry on +263 772 413 346 or via email media@kitft.co.zw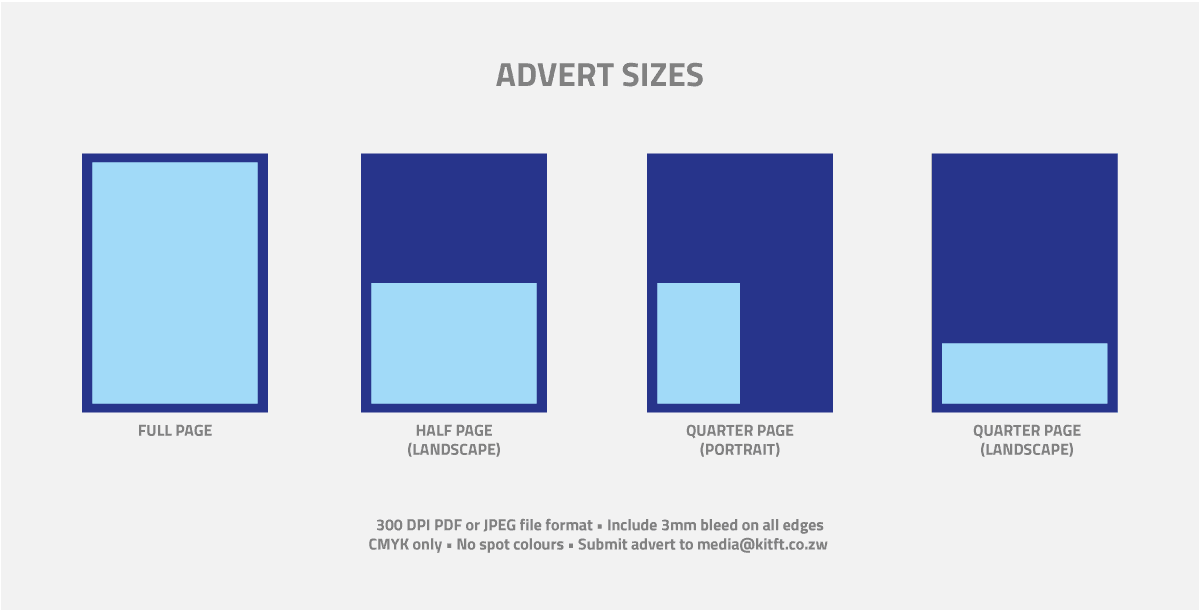 Full Page
210 mm x297mm
Half Page (Landscape)
210mm x 148mm
Quarter Page (Portrait)
105mm x 148mm
Quarter Page (Landscape)
210 mm x 74mm
Double Page Spread
420 mm x 297mm